Official release:
City Council Vice-President Jen Giattino Calls on Mayor Bhalla to Fulfill His Promise to Hoboken Residents of 'Working Full-Time for the People of Hoboken'.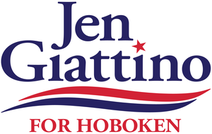 "During the election when asked how he would do a full-time job as mayor while working as a lawyer, and when asked how he would avoid conflicts of interest with his politically-connected law firm, he repeated the promise that he would quit his law job to work "full-time for the people of Hoboken." Voters in Hoboken took him at his word and elected him Mayor. Now we find that when he said he'd quit his job, he apparently thought he had a loophole to take a job with another firm that is as politically connected as the one he left.
The mayor of Hoboken gets a salary of $116,000 annually, the highest in Hudson County. Only two towns in Hudson County - Hoboken and Jersey City - have full-time salaries at these levels for full-time mayors. All other towns have part-time salaries for part-time mayors who have additional jobs.
He knew what people believed when he promised to quit his job and work full time for Hoboken. Hoboken pays for and needs a full-time mayor. He should follow through with his promise."