Official release:

Dear friends and neighbors:
It has been both a short and long 48 hours (as of this writing).  By now I am sure all of you have had at least one direct experience with our new E-Scooters – whether witnessing a safety breach or riding one or both.  Here is just one example of the many that I witnessed myself over the last two days of people running straight through stop signs (click to watch the short video):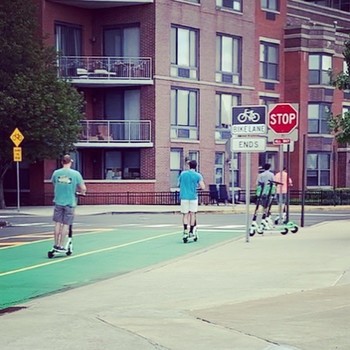 The volume of emails, calls and messages I have received has been exceptional given the short duration.  
Hoboken PD has indicted they received over 1,000 emails to traffic@hobokepd.org in the first day.
  Like those I received, t
he majority, but not all, are from people who are concerned, against, opposed, and/or want to see the E-Scooters thrown in the river.  And I would say that I personally fell into that camp as well.  A few have told me they are fun or cool.  Truth be told, I have not yet ridden one mainly because I lack confidence in my own abilities to stay upright on one, but I will give it the ole college try soon.
I am not writing to tell you what you already know.  
That the rollout was terrible, lacking the education and enforcement plans and a commitment to safety that had been promised to the City Council when we voted 8-1 on the PILOT (for clarity – I voted 'Yes' only after I introduced and we discussed the topics of education and enforcement and we received the promises from the administration and HPD). Or that it seems like everyone in town lost their manners, marbles and respect for their neighbors in the last two days with these EScooters – whether ignoring stop signs and traffic lights, riding on sidewalks (illegal) and the wrong way on one way streets (always illegal), letting their teens have their sign-in and riding through Church Square Park (minimum age is 18, riding in parks is illegal), or letting their six year old join them on the scooter without a helmet (or even with one! Illegal!) and then just leaving scooters in the middle of sidewalks and directly in front of entrances to buildings.  Seriously… WHAT THE HECK HAPPENED?!?!?!?!?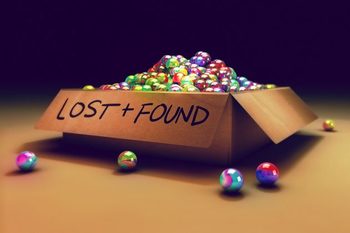 Day one was ridiculous but behaviors seemed to improve some on day two – I saw plenty of people riding safely, still a minority though.   And we learned more.  We learned that 
there were 2,500 rides on day one
 by 1,700 people that traveled over 2,700 miles.  That is a lot given these were only on 250 scooters (these stats just for the 
Lime
 E-Scooters).  That means people seem to like riding them.  
We also learned that most people still don't know what the rules are because their only way of knowing was if they happened to pass by the 
Lime
 table near Pier A, read the signs on the 
Lime
 scooter itself, or read the 
city's informative nixle alert/email
 (that didn't go out until the end of the first day of the pilot).  So we confirmed what we already knew which was that we need education and enforcement for this to have any chance at success.  
But I actually learned the most in my 40 minute conversation with Shari Shapiro of 
Lime
 yesterday afternoon and also reading 
the state legislation
 for the first time.  She called to ask me if she could address any questions or concerns and she got an earful from me.  But to her credit, she was patient, listened and provided a lot of information that I wasn't previously aware of that I think is helpful.  
The conversation started with me asking about how 
Lime
 can make sure our youth cannot access the scooters.  We ended with a long list of suggestions and recommendations on what 
Lime
 can and should do as quickly as possible to meet the needs of Hoboken, which may be different than other communities they serve.  Here is a summary of some of what we discussed:
Kids/teens access to scooters:

 First and foremost, 

no one under 18, according to NJ STATE LAW

, can ride E-Scooters.  

Lime

's own website is inconsistent with this and says those under 16 can ride with the permission of parents.  I suggested they update their website.  Ms. Shapiro indicated that the only way kids can access scooters is if a parent/adult gives them access as they need a credit card and a valid ID to register.  I told her that many teens have credit cards and asked whether anyone on their end was actually verifying the ID at 

Lime

.  She needed to confirm the second part.  We also discussed ways they can ultimately revoke user's privileges if found they have allowed those under 18 to use the EScooter on the adult's account.  This is still a working discussion.
Continuous Education.

  

Lime

 did have a table near the PATH and will be there this week to help inform people about the safe usage of their E-Scooters.  Unfortunately, that wasn't helpful for all of those who found 

Lime

 scooters across the city with no guidance or instructions.  

Lime

 indicted they will have tables across the city this weekend and for the few upcoming weekends.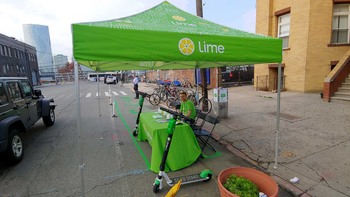 Rules of the Road.

  This is a big one to me.  Everyone who registers to use a 

Lime

 E-Scooter is required to give an email.  And 

Lime

 will be sending regular (currently daily) emails to these users reminding them the rules of the road.  Below is their "Day Two" email, and I provided guidance for their future ones which I hope will include reference to no riding in parks, and no one allowed under 18 on the bikes, or privileges can be revoked:
"As you know, the Hoboken program is a pilot. To make scooters a permanent option here, we need you to ride respectfully, following all the rules of the road, and paying special attention to these priorities:
Never ride on the sidewalk

Always yield to pedestrians

Obey all stop signs, traffic signals, and other rules of the road (like a bike or car)

Only travel in the direction of traffic (not the wrong way down one-way streets)

Never block sidewalks or crosswalks when parking a 

Lime

 scooter (park next to the curb)
Our staff is here to answer any questions:
Tuesday-Friday, May 28 @ 14th Ferry Terminal, 
Saturday, June 1 @ Pier A
For any questions, comments or concerns, please reach out to our team directly by emailing support@li.me, calling 1-888-LIME-345 or texting 1-888-546-3345"
Ability to "catch" riders in parks and revoke privileges.

  Another big one.  

Lime

 can see where people are going.  I have already received from friends screenshots of the paths they took riding the E-Scooter.  

Ms. Shapiro indicated they have made parks "red" on their App to show where their E-Scooters are not allowed.  She also indicated that they can use rider information to send individual riders notes about going through areas where they are not allowed and if the actions continue their privileges can be revoked.  BIG BROTHER LIME

 is definitely watching.  But this is a great feature to help ensure people are using the E-Scooters safely.
Working on the ability to "catch" riders riding the wrong direction down our network of one-way streets. 

Ms. Shapiro was not sure if 

Lime

's system is set up to match paths traveled with street direction but she is looking into it.  Given the technology of mapping and GPS, I believe it can happen and could function similarly as mentioned above – where the system could catch people riding in the wrong direction.  
Sidewalk riding.

  The state legislation says that E-Scooters and E-Bikes are NOT ALLOWED ON SIDEWALKS!  Ms. Shapiro confirmed this and are actively repeating this in their education.  So not only are the new E-Scooters in this, but so are the E-Bikes that you often see delivery people using on our sidewalks.  The state legislation specifically says where E-Scooters and E-Bikes can go:  "A low-speed electric bicycle or low-speed electric scooter, as defined in R.S.39:1-1, may be operated on the streets, highways, roadways, and bicycle paths of this State."
Parking the E-Scooters

.  Here the state legislation is also clear on where you can park them: "may be parked on a sidewalk provided that the low-speed electric bicycle or low-speed electric scooter does not impede the normal movement of pedestrian or other traffic upon the sidewalk".  If you are reading this and riding the scooters, please just follow the simple rule of RESPECTING OTHERS.  If you are going to park it on a sidewalk, park it away from where people walk.  The city provided a great illustration on its website showing examples: